LOREO Photokit MK II 3D Camera
LOREO Dark Grey Deluxe 3D Viewer
LOREO Multi-Colored
Deluxe 3D Viewer
LOREO Lite 3D Viewer
(Black & White)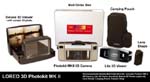 Mail Order Box Set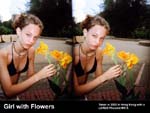 sample photograph
In 1990, Loreo Asia Ltd. released the award winning 3D Photokit. This simple but ingenious camera has a unique place in the history of stereo photography. Reliable and easy to use, the Photokit became very popular with 3D enthusiasts, and is still used by many fans all over the world.


Loreo has now launched a major upgrade of the popular LOREO 3D Photokit. The new LOREO Photokit MK II now has Glass Mirror Reflectors and Aspheric Lenses, which produce sharp 3D pictures. Image Pitch has been adjusted for even easier 3D fusion, particularly with 4R prints. New Mini viewers work well with images from the MKII Aspheric Lens. F-stop has been opened up to 2.5 mm diameter and the shutter adjusted from 1/90 to 1/60 sec for brighter photos under dull conditions. A new beam splitter housing eliminates internal reflection.

Fans liked the first Photokit because it was a compact stereo camera where most of the optics were housed in the camera body. It was lightweight and easy to carry around. Having a 28mm lens helped compensate for having a single frame split into two images. The hugely improved MK II still has all these features, and is turning out to be even more popular.

Photokit MK II pictures can be digitized. Scans can be made from prints, or directly from negatives. They can be viewed on computer screens with a Loreo Lite 3D Viewer. A high resolution LCD or CRT monitor is recommended. For best 3D effect, images should be resized so that they are not more than 8 inches across onscreen."

Technical Information

Purchasing
Product Photographs
Sample Photographs
User Photographs (all taken with the old Photokit MK I camera)
User Links
Interesting Links
The Loreo Photokit MK II is a product of Loreo Asia Ltd..
- - - - -
Return to the Loreo Homepage.
E-mail: info@loreo.com