LOREO 321
Mono-Stereo Camera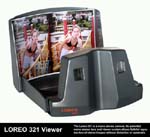 LOREO 321
3D Viewer
sample photograph
The LOREO 321 Mono-Stereo (patented) is Loreo's new point-and-shoot 3D camera. The camera was developed to meet the needs of the end-user, particularly those unfamiliar with 3D photography, and brings stereo photography to the mass market as never before.

The camera is unique in that it can take both ordinary and 3D photographs with standard film. The 3D mode can be switched on or off at any frame. It uses a patented mono-stereo system, and is completely compatible with 1-hour processing. High quality prints can be made from both mono and stereo shots. A 3D viewer is part of the package.

The LOREO 321 Mono-Stereo is a sister product of the well known LOREO 3D Photokit, which is widely sold in North America, Japan and Europe. It should be noted that due to the technical restrictions involved in designing a mono-stereo camera, the Loreo 321 uses the crossover stereo format, which is different from the side-by-side stereo format used by the Photokit. This means that 3D photographs taken with the Loreo 321 are not viewable with the parallel format Loreo Deluxe 3D Viewer or Lite 3D Viewer. Some users prefer the Photokit side-by-side system. Others prefer the Loreo 321 crossover system.
Technical Information

Purchasing
Product Photographs
Sample Photographs
User Photographs
- - - - -
Return to the Loreo Homepage
E-mail: info@loreo.com